Smart, Effective, High Performance
Goldwind's integrated service business assures you service and support throughout the whole life cycle of your investment. Goldwind Service in Australia (GWSA) proudly maintains over 1GW of wind turbine generators in New South Wales, Victoria, Tasmania, and Western Australia, and expects to double that capacity in the near future. Through reliable technology and smart working, GWSA regularly achieves outstanding availability at our customers' wind farms in excess of 99% annually.
GWSA has established teams of highly experienced, fully qualified personnel who perform operations and maintenance (O&M) services on wind and solar farms across Australia. Our HV certifications and general wind farm operations experience allow GWSA to offer you extended scope in our warranty, operation, and maintenance (WOM) covering both EBOP and CBOP scheduled and unscheduled maintenance. Operation services can also extend to the provision of full wind farm asset management administration where our customers require it.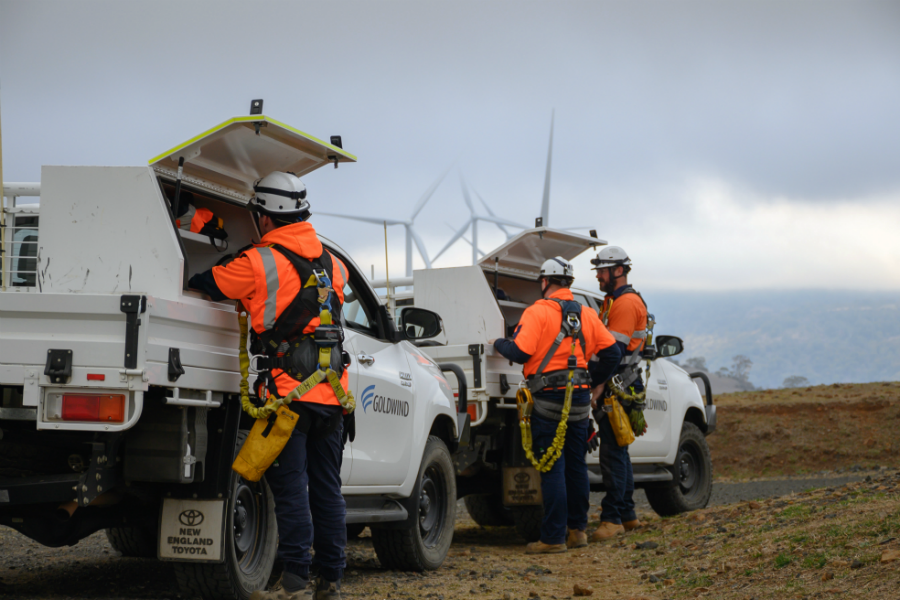 Our nationwide O&M teams are comprised of skilled:
Wind turbine maintenance, repair, and retrofit technicians
Wind farm operation managers
Wind Farm asset manager
High voltage operators
Local technical support teams
Performance analysts and fault diagnosticians
Health Safety Environmental and Quality (HSEQ) specialists
Logistics and supply chain specialist
Pre-qualified 3rd party suppliers of goods and services
Top-class Service for a Lifetime
Goldwind's smart maintenance and operation solution provide flexible, professional, efficient, and customized services to our clients. It provides three main benefits:
Customizable scope of services
Intelligent operation focusing on performance with minimal production interruption
Hassle-free maintenance and repairs with report transparency
Goldwind's growing Service business provides regular service to around 40GW in wind assets in 27 countries. Wind turbine generators are monitored by Goldwind Technology Global Monitoring Center, covering China and more than 500 wind turbine generators from the United States, Australia, Thailand, Romania, Ecuador Pakistan, and more. Service maintenance and repair is supported by global logistics that deliver over 1.5 million parts annually from over 315 suppliers, and through over 180 warehouses.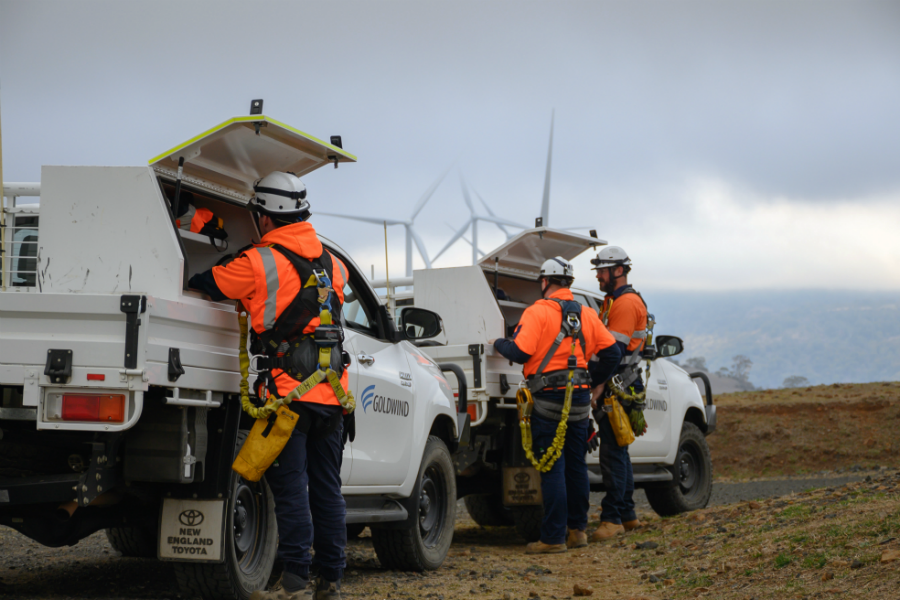 Competitive WOM Costs
Our long-term WOM contract customers know that they will not incur "hidden extra" costs for maintenance and operation over a period of up to 25 years.
Goldwind's proprietary PMDD technology creates greater efficiency and reduces wear and tear.
This allows us to ensure our equipment's overall cost, including WOM, is most advantageous for our customers.
Local Service Availability
GWSA have an established administrative presence and technically capable personnel for each one of the contracted wind farms. Our pool of highly knowledgeable experts can respond quickly and effectively to all matters related to the proper operation of wind farms and the balance of plant. Our global service experts stand by to provide specialist support at any time.
The availability gives direct information about the overall reliability and the operation status of the wind turbine. Goldwind guarantees that the turbine meets the guaranteed availability during the service period.
To guarantee the quality and efficiency of daily O&M, GWSA supplements global 24/7 remote monitoring services performed in China and the US with local Australian monitoring. The service covers the supervision of operations data and operational stability, with reports generated on a monthly basis. GWSA send an expert team to perform further troubleshooting where an issue can't be solved by remote technical support.
Based on the maintenance manual, GWSA site service team implement scheduled maintenance plans. Scheduled maintenance covers inspections of the tower, foundation, main control system, pitch system, nacelle, generator, hub, etc. Scheduled maintenance includes preventive measures that guard against any potential risk during operation. GWSA ensure quick service support to guarantee safe and stable turbine operation.
Based on operation conditions (historical operation data, operation years, geographical features and seasonal variation), certain unscheduled maintenance is implemented by the site service team, including diagnostic investigations and on-site troubleshooting. Data monitoring and analysis ensures most operation abnormalities or imminent dangers will result in errors or warnings and relevant precautionary measures are taken accordingly.
Tools, Material & Spare Parts
GWSA guarantee full, accurate and professional material support and facilitate daily O&M activities with warehouses that are set up on-site or regionally. Our stores manage consumables and ensure major components, regular spare parts, and stored inventory is supplemented on a regular basis through learnings about stocks of critical spare parts.
Our robust management systems and rapid response programs ensure the safety of our staff and that of Goldwind visitors on-site. Our HSEQ staff and systems allow us to maintain the very highest standards for the safe operation of the wind farms that are contractually entrusted to the Goldwind Service department.
Goldwind provides software and control strategy update service during the entire WOM period in order to ensure stable operation and enhance the generating capacity of wind turbine generators.
Condition Monitoring System
Goldwind provides a real-time monitoring system with enhanced features on vibration data analysis. Concerns for the wind turbine generators are captured by detecting and diagnosing relevant vibration and power signals. The CMS system has been certified by CNAS and all monitoring specialists have granted certification on vibration analysis.
Based on a suite of power forecasting techniques, Goldwind's algorithm is based on the integration of data monitoring, numerical forecasting, short-term wind predictions, and mid-and-long term power output forecasts, to provide full-scale forecasting services (group level, region level and site level) to customers. To date, more than 500 forecasting modules have been adapted to more than 50 wind farms in various markets.
The power lift service consists of three modules; a Software Control Module, an Aerodynamic Optimization Module, and an Eco-Friendly Module. Through different combinations, the overall power lift is optimized, according to the customers' special requirements. By implementing this service, a 2%-5% increase in the power output can be achieved.
Wind Farm Post Evaluation
At the end of the warranty period, wind farm post-evaluation services are available for customers. The services include:
Advice and suggestions about future O&M works according to site conditions
Suggestions for improving the overall performance and output